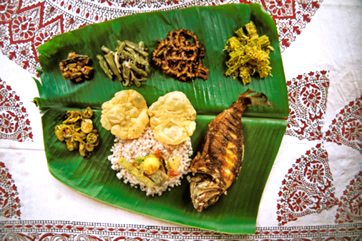 The cuisine of Kerala is linked in all its richness to the history, geography, demography and culture of the land. Since many of Kerala's Hindus are vegetarian by religion, and because Kerala has large minorities of Muslims and Christians that are predominantly non-vegetarians, Kerala cuisine has a multitude of vegetarian and dishes prepared using fish, poultry and meat.
For over 2000 years, Kerala has been visited by ocean-goers, including traders from Greece, Rome, the eastern Mediterranean, Arab countries, and Europe (see History of Kerala). Thus, Kerala cuisine is a blend of indigenous dishes and foreign dishes adapted to Kerala tastes. Coconuts grow in abundance in Kerala, and consequently, grated coconut and coconut milk are widely used in dishes and curries as a thickener and flavouring ingredient. Kerala's long coastline, numerous rivers, backwater networks and strong fishing industry have contributed many sea- and river-food based dishes. Rice is grown in abundance, and could be called, along with tapioca (manioc/cassava), to be the main starch ingredient used in Kerala food. Having been a major production area of spices for thousands of years, black pepper, cardamom, cloves, ginger, and cinnamon play a large part in its food.
Spices in Kerala Cuisine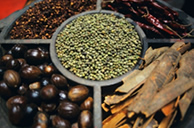 As with almost all Indian food, spices play an important part in Kerala cuisine. The main spices used are cinnamon, cardamom, ginger, green and red peppers, cloves, garlic, cumin seeds, coriander, turmeric, and so on. Few fresh herbs are used, unlike in European cuisine, and mainly consist of the commonly used curry leaf, and the occasional use of fresh coriander and mint. Tamarind, kodampuli (Garcinia Cambogia), and lime are used to make sauces sour, as sour sauces are very popular in Kerala. Sweet and sour dishes are however, rare, but exceptions like the ripe mango version of the pulissery and tamarind-jaggery-ginger chutney known as puliinji or injipuli are popular.
Mealtimes
Breakfast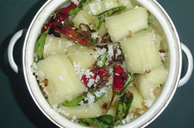 Kerala cuisine offers many delicious vegetarian breakfast dishes that are often relatively unknown outside the state. These include Puttu (made of rice powder and grated coconut, steamed in a metal or bamboo holder) and kadala (a curry made of black garbanzo beans chana), idli (fluffy rice pancakes), sambar, dosa and chutney, pidiyan, Idiyappam (string hoppers - also known as Noolputtu and Nool-Appam), Paal Appam- a circular, fluffy, crisp-edged pancake made of rice flour fermented with a small amount of toddy or wine, etc. Idiyapam and Paalappam are accompanied by mutton, chicken or vegetable stew or a curry of beef or fish moli (the most common dish is black Pomfret in a coconut based sauce).
Lunch and dinner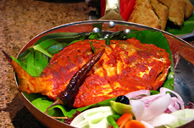 The staple food of Kerala, like most South-Indian states, is rice. Unlike other states, however, many people in Kerala prefer parboiled rice (Choru) (rice made nutritious by boiling it with rice husk). Kanji (rice congee), a kind of rice porridge, is also popular. Tapioca, often called kappa, is popular in central Kerala and in the highlands, and is frequently eaten with fish curry.
Rice is usually consumed with one or more curries. Accompaniments with rice may include upperis (dry braised or sauteed vegetables), rasam, chips, and/or buttermilk (called moru). Vegetarian dinners usually consist of multiple courses, each involving rice, one main dish (usually sambar, rasam, puli-sherry), and one or more side-dishes. Kerala's cuisines use coconut oil almost exclusively, although health concerns and cost have led to coconut oil being replaced to some extent by palm oil and vegetable oil.
Popular vegetarian dishes include sambar, aviyal, Kaalan, theeyal, thoran (dry curry), pulisherry (morozhichathu in Cochin and the Malabar region), olan, erisherry, puliinji, payaru (mung bean), kappa (tapioca), etc. Vegetarian dishes often consist of fresh spices that are liquefied and crushed to make a paste-like texture to dampen rice.
Sadya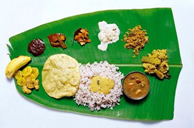 Kerala is known for its traditional banquet or sadhya, a vegetarian meal served with boiled rice and a host of side-dishes served especially during special occasions and festivals. The sadhya is complemented by payasam, a sweet dessert native to Kerala. The sadhya is, as per custom, served on a banana leaf, and is a formal-style meal with three or more courses of rice with a side-dish (usually sambar, rasam, buttermilk, etc.). In south Kerala the Payasam in followed by more (butter milk). Whereas in North Kerala it is considered to be the last dish to be served. A typical sadhya would have
Sweets and Desserts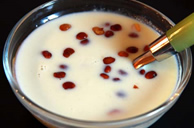 Due to limited influence of Central Asian food on Kerala, the use of sweets is not as widespread as in North India. Kerala does not have any indigenous cold desserts, but hot/warm desserts are popular. The most popular example is undoubtedly the payasam: a preparation of milk, coconut extract, sugar, cashews, dry grapes, etc. Payasam can be made with many base constituents, including Paal payasam (made from rice), Ada payasam (with Ada, a flat form of rice), Paripu payasam (made from dal), Pazham pradhamam (made from banana), Gothambu payasam (made from wheat) etc. Ada payasam is especially popular during the festival of Onam. Most payasams can also be consumed chilled. Jaggery or molasses is a common sweetening ingredient, although white sugar is gaining ground. Fruit, especially the small yellow bananas, are often eaten after a meal or at any time of the day. Plantains, uncooked or steamed, are popularly eaten for breakfast or tea.
Pickles and other side-dishes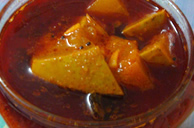 Kerala cuisine also has a variety of pickles and chutneys, and crunchy pappadums, banana chips, jackfruit chips, kozhalappam, achappam, cheeda, and churuttu.
Beverages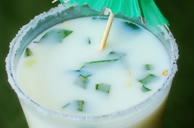 Being a hot and humid area mostly, Keralites have developed a variety of drinks to cope with thirst. A variety of what might be called herbal teas is served during mealtimes. Cumin seeds, ginger or coriander seeds are boiled in water and served warm or at room temperature. In addition to the improved taste, the spices also have digestive and other medicinal properties. Sambharam, a diluted buttermilk often flavoured with ginger, lime leaves, green chili peppers etc. was very commonly drunk, although it has been replaced to some extent by soda pop. Coffee and tea (both hot) drunk black, or with milk and white sugar or unrefined palm sugar (karippatti), are commonly drunk. Numerous small shops dotted around the land sell fresh lime juice (called naranga vellam, or bonji sarbat in Malayalam), and many now offer milk shakes and other fruit juices.