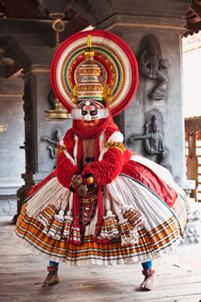 Wedged between the Western Ghats on the East and the Arabian Sea on the West, the narrow strip of land known as Kerala is a destination of a lifetime.
The timeless beauty of the palm fringed beaches of Kovalam and Varkala, the majesty of the undulating hills of Munnar and Vagamon, the serenity of the pristine backwaters of Kumarakom & Kuttanad and the enchanting woods and forests of Thekkady and Silent Valley will have you bowled over.
That such a small terrain can hold diverse geographical features and cultures is a wonder in itself.
Any mention about Kerala, conjures in one's mind, an image of pristine backwaters, palm fringed beaches, tranquil villages and greenery in profusion. God has generously bestowed this land with the bounties of nature and so it only seems natural when Kerala is referred to, as God's own country.
A much sought-after destination for tourists in India and abroad, Kerala is named as one of the 'Ten Paradises of the World' and 'Fifty Places of a Lifetime' by the National Geographic Traveler Magazine. The alluring serenity of this place leaves every tourist spell bound, making them come back year after year. Be it the sun-kissed beaches or the misty hill stations; the rhythmic backwaters or the forestlands rich with all varieties of flora and fauna; pilgrim centres or historic monuments; Kerala has everything you might travel far and wide to see. Just one visit and you will know why Kerala has the lovely epithets attached to it.
So come over to this land that holds promises of leaving you mesmerized and gifting you one of the best holidays you have ever had.