This wonderful combo package is a blend of Kerala's tour hotspots and gives you the total feel of Kerala and its tradition. Covering destinations from the north of Kerala like Calicut, Kannur, Vythiri and destinations in central Kerala like Thrissur and Cochin, the package concludes by giving a splendid stay in a houseboat in Alleppey. The package will truly inspire you by giving you a deep insight into the Kerala's historical past and cultural heritage. Places like Kannur, Calicut and Cochin greatly reflect Kerala's past and also enlightens one's mind with knowledge of Kerala's varied artforms. Thrissur, which is Kerala's cultural capital, will give you a brief introduction to Kathakali and Mohiniyattom, Kerala's traditional dance forms and also a glimpse into the Kerala Lalitha Kala Academy which showcases the paintings and sculpture talent of Kerala. The stay is arranged at three star hotels with bed and breakfast plan and stay on twin sharing.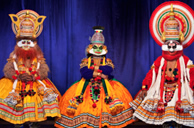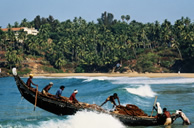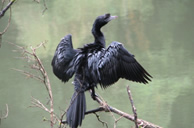 ITINERARY
DAY 01 : Calicut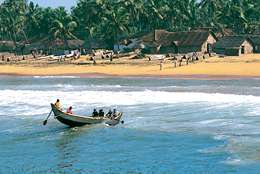 Arrival Calicut and transfer to hotel (20 Kms, ˝ Hrs). Day free for sightseeing Evening back to hotel and overnight stay.
Calicut (Kozhikode): Vasco Da Gama landed at Kappad Beach near Kozhikode in 1498, becoming the first European to reach India via the sea route around the southern cape of Africa. His arrival heralded the period of Portuguese supremacy in India and the history of Kozhikode after 1948 was certainly dramatic. The Portuguese attempted to conquer the town, a center of Malabar power under the Zamorins (Lords of the sea).
DAY 02: Calicut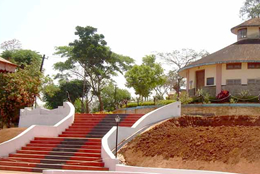 Morning breakfast at hotel and the day free for sightseeing. Evening back to hotel and overnight stay at hotel.
DAY 03 : Calicut - Vythiri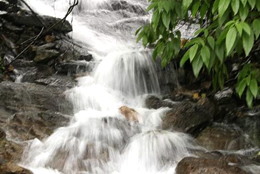 Morning after breakfast proceed to Vythiri (65Kms, 2 Hrs), check into Resort and Overnight stay at Resort.
Wayanad, One of the fourteen districts in Kerala (India), this green paradise is nestled among the mountains of western ghat and is located at a distance of 76 km from the nearest sea-shore of Kozhikode. The name Wayanad has been derived from the expression 'Vayal nadu' - the village of paddy fields. It is a jewel in the crown of western Ghat, Wayanad - Blessed and gifted by nature. Wayanad known for its picturesque mist-clad hill stations, sprawling Spice plantations, luxurious forest and rich cultural traditions. The leading tourist centres of South India like Ooty, Mysore, Coorg and Kannur are around this region. Almost every crops such as Coffee, Pepper, Ginger, Cocoa, Arecanut, Tea, Rubber, Vanilla etc are grown here. Wayanadan Pepper is famous in the world of Spices.
DAY 04 : Vythiri
Morning breakfast at resort and the day free for sightseeing. Evening back to resort and overnight stay.
DAY 05 : Vythiri - Cannanore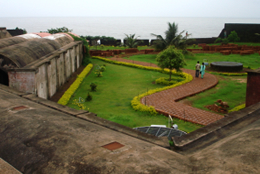 Morning after breakfast proceed to Cannanore (93 Kms, 2 ˝ Hrs), check into hotel. Overnight stay at hotel.
Cannanore (Kannur): One of the most important seacoast town of Kerala. 317 kms from Cochin and 93 kms from Calicut. The capital of the north Koalathiri Rajas for many centuries Cannanore today has many monuments of historical interest. It was once a premier port of ancient Kerala. Marco Polo has referred to Cannanore as a great Emporia of Spice trade.
DAY 06 : Cannanore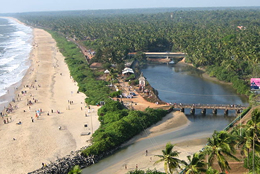 Morning breakfast at hotel and the day free for sightseeing. Evening back to hotel and overnight stay.
DAY 07 : Cannanore - Thrissur
Morning after breakfast proceed to Thrissur (240 Kms, 8 Hrs), check into hotel. Day at leisure. Overnight stay in Thrissur.
Thrissur: The term Thrissur is the abbreviated anglicized form of the Malayalam word "Thrissivaperur" which means the town of the "Sacred Siva". The town is built on an elevated ground, at the apex of which is the famous "Vadakkumnathan" Temple. A place of great antiquity, Thrissur was also known as "Vrishabhadripuram" and "Ten Kailasam" in ancient days. From ancient times, Thrissur District has played a significant part in the political history of south India. The early political history of the District is interlinked with that of the Cheras of the Sangam age, who ruled over vast portions of Kerala with their capital at Vanchi. The whole of the present Thrissur District was included in the early Chera Empire. The District can claim to have played a significant part in fostering the trade relations between Kerala and the outside world in the ancient and medieval period. It can also claim to have played an important part in fostering cultural relations and in laying the foundation of a cosmopolitan and compose culture in this part of the country. Kodungalloor which had the unique distinction of being the "Primum Emporium India", also belongs to the signal honour of having first given shelter to all the three communities which have contributed to the prosperity of Malabar'. These three communities are the Christians, the Jews and the Muslims.
DAY 08 : Thrissur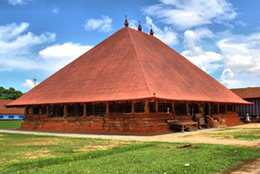 Morning after breakfast proceed to sightseeing/ optional activities. Overnight stay at hotel.
Koothambalam is a theater hall for staging Koothu and Koodiyattam, the ancient dramatic art forms of Kerala, India. Koothambalams are constructed according to Natyasastra of Bharata Muni. It is considered as sacred as the temple sanctum itself. It is constructed within the premises of a Temple and usually the structure is about 16m long and 12m broad with a 4m square platform supported by pillars in the center. During show, the stage is decorated with fruit-bearing plaintains, bunches of coconuts and festooned with the fronds of the coconut palm. The 'para' filled with rice is placed on the stage. The 'Nilavilakku' is used for lighting the stage. The stage will have the Mizhavu, a percussion instrument accompanying Koothu, placed within a railed enclosure, with a high seat for the drummer.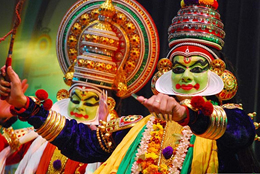 Kathakali is a highly stylized classical Indian dance-drama noted for the attractive make-up of characters, elaborate costumes, detailed gestures and well-defined body movements presented in tune with the anchor playback music and complementary percussion. It originated in the country's present day state of Kerala during the 17th century [1] and has developed over the years with improved looks, refined gestures and added themes besides more ornate singing and precised rumming.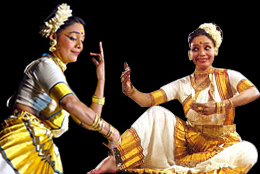 Mohiniyattam, also spelled Mohiniattam, is a traditional South Indian dance from Kerala, developed by the great Tamil nattuvanar (dance master) Vadivelu,one of the Thanjavur Quartet. It is one of the eight Indian classical dance forms. It is considered a very graceful dance meant to be performed as a solo recital by women. The term Mohiniyattam comes from the words "Mohini" meaning a woman who enchants onlookers and "aattam" meaning graceful and sensuous body movements. The word Mohiniyattam" literally means "dance of the enchantress". There are two stories of the Lord Vishnu disguised as a Mohini. In one, he appears as Mohini to lure the asuras (demons) away from the amrita (nectar of immortality) obtained during the churning of the palazhi or Ocean of Milk. In the second story Vishnu appears as Mohini to save Lord Shiva from the demon Bhasmasura. The name Mohiniyattam may have been coined after Lord Vishnu, and the main theme of the dance is love and devotion to God, with usually Vishnu or Krishna being the hero. Devadasis used to perform this in temples. But it also has elements of Koothu and Kottiyattom in it. Mohiniyattam is a drama in dance and verse.
DAY 09: Thrissur- Alleppey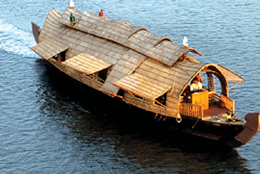 Morning after breakfast proceed to Alleppey (170 Kms, 6 Hrs.).Check into houseboat. The Houseboat takes a fascinating cruise at a leisurely and relaxing place in the backwaters of Vembanad Lake. Overnight stay at the Houseboat.
Houseboat: Traditionally, the houseboat was called kettuvallom, which means a boat made by tying together pieces of wood. Incredible may sound, not a single nail is used in the making of a kettuvallom. Jack wood planks are joined together with coir rope and then coated with black resin made from boiled cashew nut shells. Today, these giant 80-foot long crafts have been adapted into luxuriously furnished houseboats. A kettuvallom usually has one, two or three bath attached bedrooms, an open lounge, deck, kitchenette and a crew comprising oarsmen, a cook and guide.
DAY 10 : Alleppey - Cochin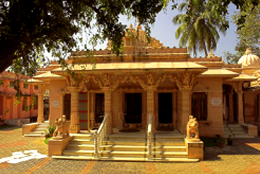 Morning after breakfast proceed to Cochin to hotel (35Kms, 45 Minutes) check in to hotel. Afternoon free for sightseeing. Back to hotel and overnight stay.
Cochin, a port city with a rich past and bustling present. Kochi is an attractive city with scene backwaters, golden sunsets and lagoons - which are overhung with feathery coconut palms. It also has picturesque Islands Vypeen, Willington, Ramanthuruth, Vallarpadam and Bolghatty - all of which contribute to its beautiful city space. Visit the interesting Jewish Synagogue - the oldest in India and the Mattancherry Palace of the former maharajas form part of this picturesque city. Also visit Chinese fishing nets on their cantilevered stands.
DAY 11 : Cochin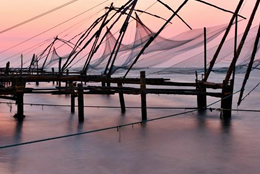 Morning after breakfast Proceed for sightseeing/shopping .Evening back to hotel and overnight to stay.
DAY 12 : Cochin
Morning after breakfast proceed to Cochin (35Kms, 30Mins) airport to connect the flight.
Tour ends