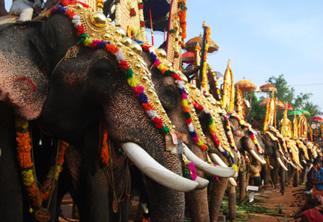 Kerala culture _ "Gods own Country" has a unique culture and art. It has developed through the centuries its own typical art forms, particularly folk dances. It is rich in its tradition and culture. Even to this day, Kerala preserves its culture and art.
For the lover of dance, drama and music, Kerala is heaven. You have scores of art forms, which are quite unique in nature to Kerala, Watch them and experience an endless and varied emotions to win your passion, love, kindness, compassion, mirth, joy, sorrow, grief, anger, wonder, horror, fear, valour, courage and so on. And then relax with the thought, all the world is a stage.
A majority of the people of Kerala are Dravidians, who also inhibit most of the southern part of India. Hinduism is the main religion with significant percentages of Muslims and Christians. Kerala is also known for Kathakali - a 300-year-old dance form developed exclusively in the state combining the performing art forms of opera, ballet, masque, and pantomime. The dance is a beautiful blend of color, dance, music, drama, and expressions. Other dance forms of Kerala are Krishnanattom, Mohiniyattom, Thullal, Koodiyattom, Kolkkali, Thiruvathirakali, Kakkarishi Natakom, Oppanna, and Chavittunatakom. Panchavadyam, Nadanpattu, Pulluvanpattu and many more music forms have evolved over the centuries in Kerala.
Onam is a time for sports and festivities and in Kerala-where one third of the area is low lying, covered with canals, lakes, and backwaters-the people take to their boats and country crafts to celebrate. Christmas is another festival that is celebrated with much vigor and enthusiasm in the state.
Kerala is known for its variety of pancakes and steamed rice cakes made from pounded rice. In seafood, mussels are a favourite. For the Christians, who can be seen in large concentration in areas like Kottayam and Pala, stew with appam is a must for every marriage reception. Kerala also has its own fermented beverages -the famous kallu (toddy) and patta charayam (arrack). Arrack is extremely intoxicating and is usually consumed with spicy pickles and boiled eggs (patta and mutta).
Martial Arts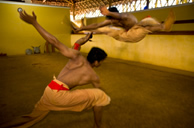 The Indian state of Kerala is renowned for its varied martial arts. Amongst the many forms of martial arts of Kerala are Kalaripayattu, Parisa Kali, Velakanni, Valeru, Kunderu and Njaninmel Kali.
Kalaripayattu is one of the oldest martial arts in the world. The original martial art form evolved in north Kerala. In Malayalam, Kalaripayattu means 'the fighting art of the Kalari'. In ancient Kerala, Kalari was a place of learning subjects such as medicine, philosophy, architecture, astrology and geometry, besides combat arts and yoga. Translated into English, 'kalari' means the battlefield and 'payat' implies training in the art of combat. The technique is based on the science of yoga for its forms and exercises, and its medical treatments are based on the science of Ayurveda.
The origins of Kalaripayattu are obscured by time, since it has been nurtured from the oldest martial traditions of South India, with influences that came in with time from north Indian Aryan martial traditions, which have links with Dhanur Veda-the science of the art of war in ancient India. Kalari in its present form has existed, for over 1,500 years, according to the traditions of the masters. Today the martial arts form is a fusion of north and south Indian fighting traditions, embodying the martial and spiritual practices of Hinduism, Buddhism and Islamic Sufism.
The Parisa Kali of North Malabar and Velakanni of Travancore are two other martial arts forms of Kerala, which involve considerable physical training and knowledge of the use of the arms. Velakanni represents the battle between Pandavas and Kauravas at Kurukshetra, and is played out during the temple festival at Cherthala and Ambalapuzha as well as Sree Padmanabha Swami Temple at Thiruvananthapuram. There are also other martial arts forms of Kerala like Valeru (sword throwing), Kunderu and Njaninmel Kali (tightrope walking), which are performed in temple festivals.
In recent times, the field of martial arts in Kerala has given the basis of circus training. The Kannur and Thalassery area of north Kerala are known as the "home of circus in India".
Kathakali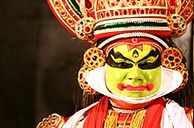 Kathakali originated from a precursor dance-drama form called Ramanattam and owes its share of techniques also to Krishnanattam. The word "attam" means enactment. In short, these two forerunning forms to Kathakali dealt with presentation of the stories of Hindu gods- Rama and Krishna.
Ignoring the first phase when it was Ramanattam, Kathakali had its cradle in Vettathunadu. Here Vettathu Thampuran, Kottayathu Thampuran (This Kottayam is in Malabar [see Kottayam (Malabar)] and many dedicated artists like Chathu Panicker laid foundations for what is known as Kathakali now. Their efforts were concentrated on the rituals, classical details and scriptural perfection. The Kottaythu Thampuran composed four great works, viz. Kirmeeravadham, Bakavadham, Nivathakavacha Kalakeyavadham and Kalyanasaugandhikam. After this the most important changes in Kathakali were brought about through the effors of a single person namely, Kaplingad Narayanan Nambudiri (1739-1789). He was from the Northern Kerala, but after basic instructions in various faculties of the art in Vettathu Kalari he shifted to Travancore. In the capital and many other centres he found many willing to co-operate with him in bringing about the reformations.
Kathakali also shares a lot of similarities with Krishnanattam, Koodiyattam (a classical Sanskrit drama existing in Kerala) and Ashtapadiyattam (an adaptation of 12th-century musical called Gitagovindam). It also incorporates several other elements from traditional and ritualistic art forms like Mudiyettu, Thiyyattu, Theyyam and Padayani besides a minor share of folk arts like Porattunatakam. All along, the martial art of Kalarippayattu has influenced the body language of Kathakali. The use of Malayalam, the local language (albeit as a mix of Sanskrit and Malayalam, called Manipravalam), has also helped the literature of Kathakali sound more transparent for the average audience.
As a part of modernising, propagating, promoting and popularizing Kathakali, the International Centre for Kathakali at New Delhi has taken up a regular project since 1980 to producing new plays based not only traditional and mythological stories, but also historical stories, European classics and Shakespeare's plays. Recently they produced Kathakali plays based on Shakespeare's Othello and Greek-Roman mythology of Psyche and Cupid.
Traditionally there are 101 classical Kathakali stories, though the commonly staged among them these days total to less than one-third that number. Almost all of them were initially composed to last a whole night. Nowadays, there is increasing popularity for concise, or more often, select versions of stories so that the performance does not last more than three to four hours from evening. Thus, many stories find stage presentation in parts rather than totality. And the selection is based on criteria like choreographical beauty, thematic relevance/popularity or their melodramatic elements. Sure, Kathakali is a classical art form, but it can be appreciated by novices' too owing to the elegant looks of its character, their abstract movement and its synchronisation with the musical notes and rhythmic beats. And, in any case, the folk elements too continue to exist. For deeper appreciation, it is good to have an idea about the story being enacted.
Margamkali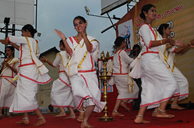 MARGAMKALI is a ritual folk art of the Syrian Christians of Kottayam and Thrissur districts. A dozen dancers sing and dance around a lighted wick lamp (Nilavilakku), clad in the simple traditional white dhoti and sporting a peacock feather on the turban to add a touch of colour. This is an allegorical enactment with the lamp representing Christ and the performers his disciples. The performance is usually held in two parts and begins with songs and dances narrating the life of St.Thomas, the apostle. It then takes a striking turn with a martial play of artificial swords and shields. The narration is stark without musical accompaniments. The songs date back to a period much before the Portuguese invasion. Today, Margamkali is only performed as a stage item by women.
Oppana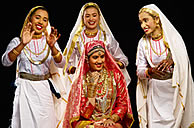 Oppana is a dance form and a performing art practiced by the Muslim women in the Malabar region of Kerala, especially the districts of Canaonore, Calicut and Malappuram. It is believed that the word Oppana derives its origin from the word Afna (Arabic). It is performed to commemorate the nuptial celebrations of the bride and is part of the wedding festivities. It is a famed form of social entertainment. Maidens and the female relatives of the bride sing and dance clapping their hands.The songs sung are called Mappilapattu and are sung firstly by the leader and the remaining women lend the chorus. Two or three girls lead the dance and the rest soon join in. The songs' themes are usually teasing comments and insinuations to the marital bliss and the shy bride's emotions. The language is a combination of Arabic & Malayalam.
Thiruvathirakali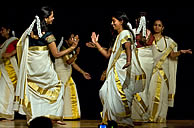 Thiruvathirakali, also known as Kaikottikkali, is a very popular group dance of Kerala. Thiruvathirakali is performed by the women of Hindu community, often during festive seasons like Onam and the Thiruvathira day in the Malayalam month of Dhanu (December- January). Performed by maids in order to attain everlasting marital bliss, Thiruvathirakali is a simple and gentle dance with the lasya element or the amorous charm predominating. The dance is performed around a nilavilakku (a ceremonial lamp) or a floral decoration especially during Onam. The dancers move in a circular pattern, accompanied by rhythmic clapping of the hands, to the tune of the Thiruvathira pattu. One of the performers sings the first line of the Thiruvathira pattu (song) while the rest repeat it in chorus. The songs are often narrations from the folk epics. . Today, Thiruvathirakali has become a popular dance form for all seasons and also a popular stage item.
Kerala Ayurveda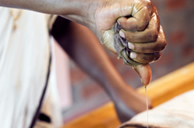 Ayurveda is a vedic system of health care that developed in India over 5000 years ago.This ancient science is health specific, not disease specific and takes into account the patients entire personality - body, mind and spirit. Ayurveda is based on the ancient wisdom of good living. Thus, Ayurveda is defined as the Science of life. It uses herbs and oils to heal and rejuvenate,and thus restores balance and good health. Kerala's equable climate, natural abundance of forests (with a wealth of herbs and medicinal plants), and the cool monsoon season (June - November) are best suited for Ayurveda's curative and restorative packages. In fact, today Kerala is the only state in India which practises this system of medicine with absolute dedication. Ayurveda evolved around 600 BC in India. This unique system of medicine focuses on holistic treatment and stresses on the prevention of body ailments in addition to curing them.