The package gives you the pleasure of being on the misty and chilly mountain tops of Munnar and Thekkady besides taking you through the peaceful and serene backwaters of Kumarakom and the gurgling waves of Kovalam. This package also will help you to explore the beautiful wildlife and nature of Munnar and Thekkady and will give you a chance to see the life patterns of Kerala. This a budget package with stays arranged in two star or similar category of hotels on twin sharing and bed and breakfast plan.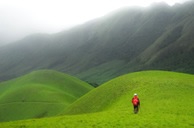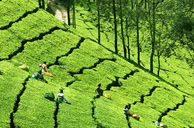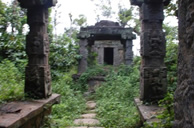 ITINERARY
DAY 01 : Cochin - Munnar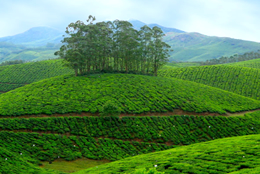 Morning arrival Cochin and transfer to Munnar (140 Kms, 3 Hrs). Check into Hotel. Day at leisure. Overnight stay in Munnar.
Munnar (5000 feet above sea level): Set amid South India's most dramatic mountain scenery in what was once know as the 'High Range of Travancore', the tiny hill town of Munnar (1524m) is the commercial center of some of the world's highest tea growing Estates. The Combination of craggy peaks, manicured tea estates and crisp mountain air makes Munnar a delightful alternative to the better-known hill stations of Tamil Nadu.
DAY 02 : Munnar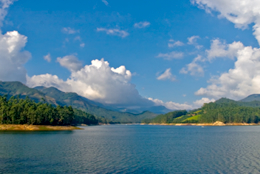 After breakfast proceed for sightseeing of Munnar - visit Mattupetty Dam, Kundale Lake, Echo Point, Shooting Point and Eravikulam National Park. Overnight stay in Munnar.
DAY 03 : Munnar - Periyar (Thekkady)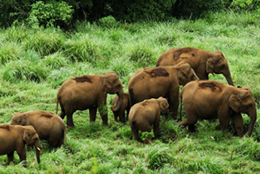 Morning after breakfast proceed to Thekkady (110 Kms. 4hrs.) check into hotel. Afternoon free sightseeing. Back to hotel and Overnight stay.
Thekkady : (Also Known as Periyar) -An internationally reputed tourist centre situated in the Western Ghats is the only place in India where you get the opportunity to see wild elephants from a short distance. Thekkady, recently named as Periyar Tiger Reserve in the year 1978, is well known for its rich natural resource and beauty. It constitutes the beautiful spice lands on one part and thick evergreen forests on the other part. Periyar Tiger Reserve is one of the world's most fascinating wild life sanctuaries, noted for its geomorphology, wild life and beautiful land- scapes .The three lakh tourists visited in 2002 highlights its importance in world tourism map. Situated in the idukki district of Kerala, thekkady forms parts of the high ranges on the Western Ghats. In the north central part is the famous Periyar Lake, a vast reservoir of water created by a dam in the Periyar River. The reserve covers hills and verdant forests extending over an area of 777 sq.km.
DAY 04 : Periyar (Thekkady)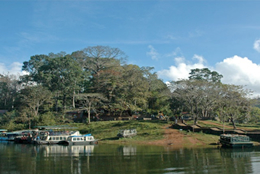 Morning after breakfast proceed for sightseeing/ Boating Evening back to hotel and Overnight stay.
DAY 05 : Thekkady - Kumarakom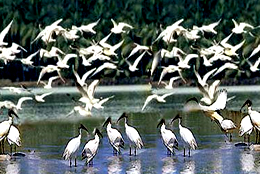 Morning after breakfast proceed to Kumarakom (115 Kms, 3 Hrs.) Check into resort and day free to visit Bird Sanctuary. Evening back to resort and Overnight stay.
Kumarakom (Sea level) is an unbelievably beautiful paradise of mangrove forests, emerald green paddy fields and coconut grooves interspersed with enchanting waterways & canals adorned with white lilies. Situated on the Vembanad Lake in this small water world you will come across plenty of traditional country crafts, boats and canoes that will take you into the heart of the scenic lake. Hundreds of miles of Narrow canals of backwaters flanked on either side by the coconut groves, paddy fields and picture post card villages.
DAY 06 : Kumarakom - Kovalam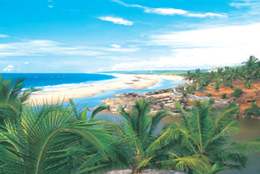 Morning after breakfast proceed to Kovalam(180 Kms, 4 Hrs 30 Mins.).Day free for sightseeing/beach activities. Evening back to hotel and overnight stay.
Kovalam, about 16 km from Thiruvananthapuram, the capital city of Kerala State, is an internationally renowned beach resort; Kovalam has been a favorite haunt of tourists for decades. Kovalam has three crescent beaches formed by rocks projecting into the Arabian Sea. The southernmost of these is known as the Lighthouse Beach. Massive rocky promontory on the beach has created a beautiful bay of calm waters ideal for sea bathing. The tropical sun acts so fast that one can see the faint blush of coppery tan on the skin in a matter of minutes. Life on the beach begins late in the day and carries on well into the night.
DAY 07:- Kovalam - Trivandrum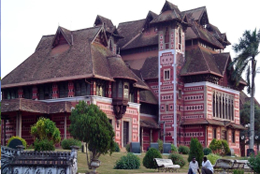 Morning breakfast at hotel proceed to Trivandrum (20 Kms, 30 Mins.) visit Temple/Museum/Zoo. Later proceed to Trivandrum airport to connect the flight.
Thiruvananthapuram, formerly known as Trivandrum, is the capital of the Indian state of Kerala. The city is characterized by its undulating terrain of low coastal hills with narrow winding lanes and busy commercial alleys. Thiruvananthapuram literally means Ananthapuri, "the city of Ananthan", the Thiru (Great/Lord) Ananthan's Puram (City). The name derives from the main deity of a Hindu temple at the centre of the city. Ananthan is the serpent Sesha on whom Padmanabhan or Vishnu reclines. The temple of Anantha, the Sri Padmanabhaswamy temple is the most recognizable icon of the city.
Tour ends.