A unique package that covers some of the spectacular destinations like Cochin, Kumarakom, Alleppy and Ashtamudi in Quilon. This package will enrich your experience with a memorable traverse through the serene backwaters of Kerala. It will show you the cultural richness of Kerala in its full splendor. The package will also give you the fantastic feel of cruising on a houseboat on the sparkling waters of Kerala.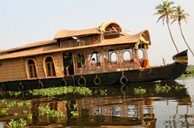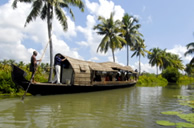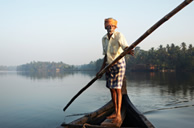 ITINERARY
DAY 01 : Cochin
Morning arrival Cochin and you will be met by our representative and then transferred to hotel (35Kms, 45 Minutes) check in to hotel. Afternoon free for sightseeing. Back to hotel and overnight stay.
Cochin, a port city with a rich past and bustling present. Kochi is an attractive city with scene backwaters, golden sunsets and lagoons - which are overhung with feathery coconut palms. It also has picturesque Islands Vypeen, Willington, Ramanthuruth, Vallarpadam and Bolghatty - all of which contribute to its beautiful city space. Visit the interesting Jewish Synagogue - the oldest in India and the Mattancherry Palace of the former maharajas form part of this picturesque city. Also visit Chinese fishing nets on their cantilevered stands.
DAY 02: Cochin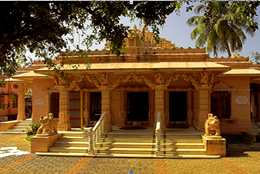 Morning after breakfast proceeds for sightseeing/ shopping. Back to hotel and Overnight stay.
DAY 03 : Cochin - Kumarakom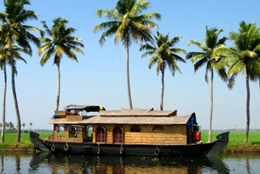 Morning after breakfast proceed to Alleppey 70 Kms, 1 Hrs 30 Min.) check in to houseboat. The Houseboat takes a fascinating cruise at a leisurely and relaxing place in the backwaters of Vembanad Lake. Overnight stay at the Houseboat
Houseboat: Traditionally, the houseboat was called Kettuvallom, which means a boat made by tying together pieces of wood. Incredible may sound, not a single nail is used in the making of a kettuvallom. Jack wood planks are joined together with coir rope and then coated with black resin made from boiled cashew nut shells. Today, these giant 80-foot long crafts have been adapted into luxuriously furnished houseboats. A Kettuvallom usually has one, two or three bath attached bedrooms, an open lounge, deck, kitchenette and a crew comprising oarsmen, a cook and guide.
DAY 04 : Kumarakom - Alleppey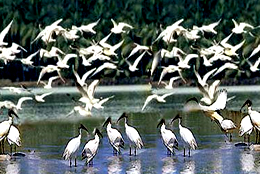 Morning after breakfast proceed to Kumarakom (35 Kms, 1 Hr.). Check into resort and day free for visit Bird Sanctuary and free to explore in the Backwaters. Evening back to resort and Overnight stay.
Kumarakom (Sea level) is an unbelievably beautiful paradise of mangrove forests, emerald green paddy fields and coconut grooves interspersed with enchanting waterways & canals adorned with white lilies. Situated on the Vembanad Lake in this small water world you will come across plenty of traditional country crafts, boats and canoes that will take you into the heart of the scenic lake. Hundreds of miles of Narrow canals of backwaters flanked on either side by the coconut groves, paddy fields and picture post card villages.
DAY 05 : Alleppey - Ashtamudi in Quilon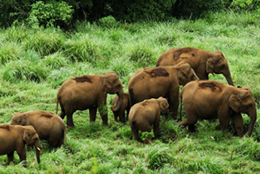 Morning after breakfast proceed to Thekkady (95 Kms, 2Hrs.), check into hotel. Afternoon free sightseeing. Back to hotel and Overnight stay.
Thekkady : (Also Known as Periyar) -An internationally reputed tourist centre situated in the Western Ghats is the only place in India where you get the opportunity to see wild elephants from a short distance. Thekkady, recently named as Periyar Tiger Reserve in the year 1978, is well known for its rich natural resource and beauty. It constitutes the beautiful spice lands on one part and thick evergreen forests on the other part. Periyar Tiger Reserve is one of the world's most fascinating wild life sanctuaries, noted for its geomorphology, wild life and beautiful land- scapes .The three lakh tourists visited in 2002 highlights its importance in world tourism map. Situated in the Idukki district of Kerala forms parts of the high ranges on the Western Ghats. In the north central part is the famous Periyar Lake, a vast reservoir of water created by a dam in the Periyar River. The reserve covers hills and verdant forests extending over an area of 777 sq.km.
DAY 06 : Ashtamudi - Cochin
Morning after breakfast proceeds to Cochin airport (150 Kms, 3 Hrs.) to connect the flight.